"It is through your body, that you realize you are a spark of divinity", B.K.S. Iyengar
Divine Yoga studio is a Iyengar Yoga private home studio offering safe, effective and fun yoga classes to the local communities. Through the teaching of Iyengar Yoga, students can be assured that classes are structured to meet the needs of each student – at every level – with attention to safety, alignment and precision.
Mission The mission at Divine Yoga Studio is to provide a safe and nurturing environment where you can learn more about Yoga and its practice. In addition, I hope to guide each student to realize the benefits a sustained Yoga practice can bring to his or her life. Through a greater respect for your body, mind and spirit your Yoga practice will help you to see the divine that exists in each one of us.
WORKSHOP – Move into Fall with twists – Saturday September 26, 2015  1 – 3 PM InnerEvolution Yoga- Yucaipa Studio.  to register http://www.innerevolutionyoga.com/ .
B.K.S. Iyengar describes twists as a "squeeze-and-soak" action:  the spine is lifted, the organs are compressed, blood is filled with metabolic by-products, and toxins are pushed out. When we release the twist, fresh blood flows in, carrying oxygen and the building blocks for tissue healing. As a result, twists aid in detoxifying the body, stimulating circulation and have a cleansing and refreshing effect on the body, mind and spirit. Treat yourself to this cleansing practice!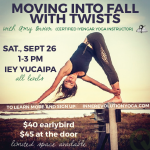 $40 earlybird
$45 at the door
.